Putting our vendors' safety and security first: an introduction to eftsure
Here at Mates4Mates, we take vendor security seriously – which is why we've teamed up with verification software company eftsure.
Used by a growing number of Australian companies, eftsure offers a new security standard for business payments by verifying supplier and vendor payments to ensure all transfers end up exactly where they are meant to.
So if you're a new vendor of Mates4Mates, or an existing vendor who's received an email from eftsure requesting verification, here's what you need to know:
eftsure manages vendor onboarding and detail changes for Mates4Mates.
All our vendor details are verified by eftsure to ensure that only legitimate information is entered into Mates4Mates' finance system. eftsure further checks these details immediately prior to payment to ensure real-time fraud protection.

Once a vendor has been verified, vendor payments are processed as per standard payment terms with no further verifications needed - making the entire process quick, easy and seamless

Mates4Mates' Cyber Security team has thoroughly vetted eftsure's systems and processes, and vendors can confidently register with eftsure when requested.
How do vendors register with eftsure?
When Mates4Mates' Accounts Payable team adds a new vendor or changes vendor details, they contact eftsure and provide them with the vendor email address.
The vendor will then receive an email invitation (sent from verificationsM4M@mates4mates.org) to register/change details. That email looks like this: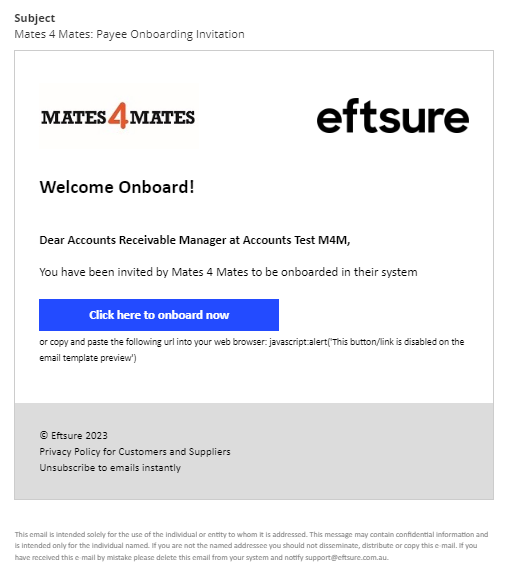 When a vendor receives this email from verificationsM4M@mates4mates.org, they can confidently click on the link and register or change their details with eftsure.
After the vendor has entered their details, vendors with an Australian bank account can expect an eftsure team member to call them on an independently sourced phone number to confirm that the details are correct. The team member may be based in Australia or overseas. If the vendor is unsure about the legitimacy of the call, they can ask the eftsure team member to provide them with some details that the vendor entered during registration, such as the BSB number or first few digits of their bank account.
Once eftsure has finished the verification process, vendor information is securely passed to Mates4Mates for entry into the finance system, so vendors can be confident that payments will be made to the correct supplier and correct bank account.
For more information, reach out to our Accounts Payable team at invoices@mates4mates.org.
Frequently Asked Questions
Registering with eftsure ensures we pay you and not someone else due to either error or fraud.
eftsure processes, in particular the verification phone call made to an independently sourced phone number, provide assurance that your details in the Mates4Mates Accounts system are genuine, accurate and up-to-date. In addition, immediately prior to Mates4Mates making a payment to you, the eftsure system reviews the payment file and checks that the payment is going to the correct account.
Any instances where the bank account details in the payment file differ from what's registered with eftsure are flagged for Mates4Mates team members to review and correct if necessary before a payment is made.
Not long – once you have registered/updated your details with eftsure, you can expect a call from the eftsure team within 24 hours asking you to verify your details.
Eftsure's processes and systems have been fully vetted by the Mates4Mates Cyber Security team. Vendor data is stored in eftsure servers (including backup servers) which are physically located in Australia.
Three reminder emails are sent by eftsure every three days after the initial invitation.
We understand that you may have concerns about providing bank account and other verification details over the phone. Ask the caller from eftsure to firstly provide you with some data that you entered into the registration form and that only someone with access to the registration form would know, such as your BSB or the first few digits of your bank account. This will provide you with reassurance that it is a legitimate call.
You can call eftsure on 1300 985 976. Alternatively, you can email the Mates4Mates Accounts Payable team via invoices@mates4mates.org.