Mental health and wellbeing services
Treatment to help you manage your mental health, wellbeing and improve your quality of life.
Using a range of evidence-based therapies, our team is here to support you when you need it most.
The impacts of service aren't always visible. Current and ex-serving Defence Force personnel and their families can experience unique challenges that can impact their mental health and wellbeing. With the right treatment, there is hope for recovery.
Our highly skilled team of psychologists, counsellors and social workers are here to help with challenges such as:
PTSD and trauma

Grief

Depression and anxiety

Transition adjustment

Addiction

Sleep disorders

Parenting and family issues
Our mental health team will work with you on the most effective treatment to manage your symptoms and enhance your quality of life. They will provide a safe, non-judgmental space for individuals and families to share and be heard.

We offer our psychology, counselling and social worker services face-to-face through our centres and via telehealth.

Referrals are required to make an appointment with a Mates4Mates psychologist. Mates4Mates is registered to provide psychology services under DVA and Medicare. To access Mates4Mates psychology services, make an appointment with your GP, Medical Officer or specialist who will assess your situation and issue a referral under DVA or Medicare, if appropriate.
To make an appointment with a Mates4Mates social worker, Mates4Mates can accept DVA referrals for social work services under some conditions (Medicare referrals aren't accepted). Make an appointment with your GP, Medical Officer or specialist to discuss further.
While no referrals are required to make an appointment with a Mates4Mates counsellor, contact us for details on how to access counselling services.
For more information on how to obtain a referral for counselling or social work services at Mates4Mates, please get in touch below.

To access other activities and services such as our social connection activities and Skills for Recovery Programs, join Mates4Mates by filling out our new client form. For more information or to speak with us about our services, get in touch below.
Talking to people helps you to stay connected as depression can make you feel isolated at times. All the services help - Mates4Mates makes you feel more connected and you're not alone.

Les
Veteran, QLD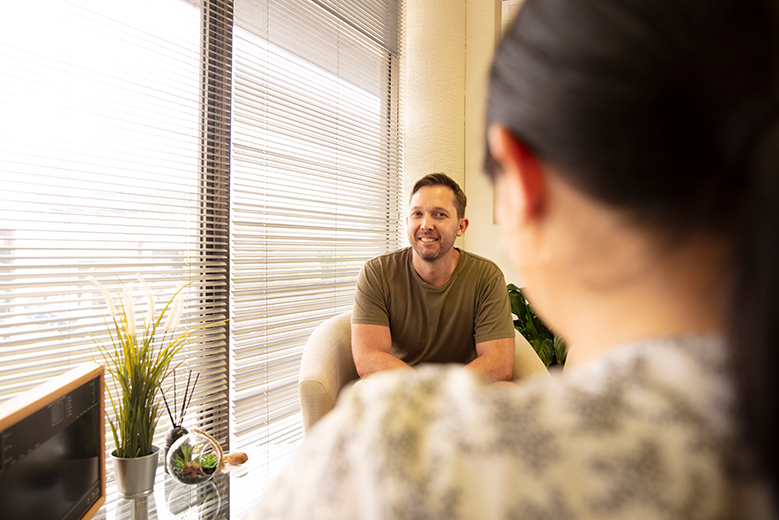 Frequently asked questions
If you are currently serving or a veteran and have been impacted by your military service, or you're a family member of someone who has, you can access our psychology services with a Medicare or DVA referral. Once you have your GP referral, you can book an appointment with one of our trained psychologists at a Mates4Mates centre. Telehealth is also available. Our psychologists are skilled in working with Defence Force personnel and understand service.
Yes, to access Mates4Mates psychology services, you need a referral from your GP, Medical Officer, psychiatrist or in the case of children, a paediatrician. For veterans and family members, your health practitioner may refer you to Mates4Mates through DVA or Medicare funding. For current serving members, your Medical Officer can refer you through specific ADF funding. All psychological services are available at no cost to you.
Mates4Mates is registered with the Department of Veterans' Affairs (DVA) and Medicare as a recognised Allied Health Provider for psychology and exercise physiology services. You simply need to visit your GP, Medical Officer or medical specialist to obtain a referral and then call Mates4Mates on 1300 4 MATES (62 837) to make an appointment.
A psychologist, counsellor or social worker will help give you the tools required to manage mental health issues, overcome trauma, work, personal, relationship issues and a range of other difficulties you may be experiencing. Our staff are here to provide a safe, non-judgemental space for you to talk about what you're going through and help you find a way forward.
Get in touch
To find out more about joining Mates4Mates, accessing services or supporting our cause, fill out our form or call 1300 4 MATES (62 837) during business hours.