Physical rehabilitation and wellbeing services
Rehabilitation services designed to help you recover from physical injuries and improve wellbeing.
Targeting all aspects of health and wellbeing is important for recovery. Our team of exercise physiologists (EP) are here to support you through a range of services.
Our accredited exercise physiologists provide clinical exercise interventions to improve health conditions, assist in injury rehabilitation and improve quality of life regardless of age, fitness level or health conditions.

Effective treatments for veterans and their family members at Mates4Mates include physical rehabilitation, hydrotherapy, health education, pre- and post-surgery rehabilitation, group fitness activities, movement for mental health, and more, offered both in one-on-one appointments and in group class settings.

Our exercise physiologists will take the time to learn about your health history and any injuries that you've previously had or are currently dealing with.

Mates4Mates exercise physiology services are available face-to-face through our Veteran & Family Wellbeing Centres and via telehealth.

Mates4Mates is registered to provide exercise physiology services under DVA and Medicare. To obtain a referral to see a Mates4Mates exercise physiologist, talk to your GP, Medical Officer or specialist to discuss your treatment options.
If you are not eligible for exercise physiology services through DVA Health Care Cards or Medicare, contact Mates4Mates about what treatment options or services we can offer you.

To access other activities and services such as our social connection activities and Skills for Recovery Programs, join Mates4Mates by filling out our new client form. For more information or to speak with us about our services, get in touch below.

Our Exercise Physiologists
My physical health, strength and overall well-being has improved significantly. I have also grown as a person and learned a lot along this journey."

Trevor
Veteran, QLD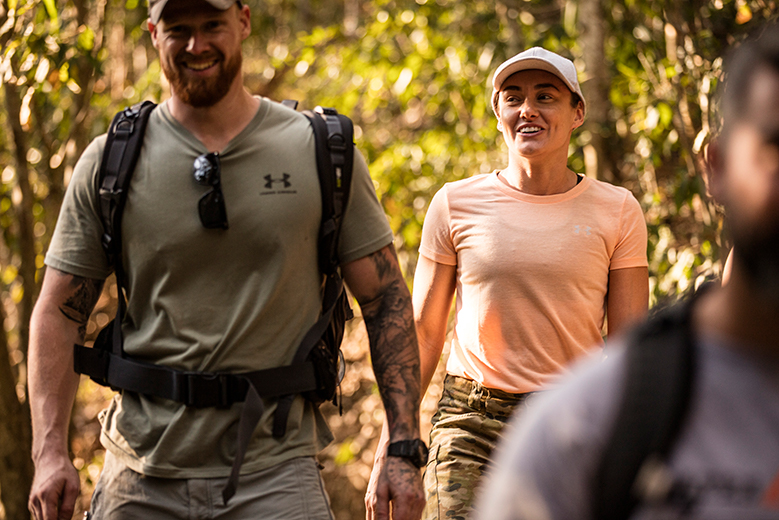 Frequently asked questions
Yes, you will need a GP referral to book exercise physiology appointments. However, you can talk to us about accessing other physical rehabilitation and wellbeing services without a referral, including trauma-informed yoga, group PT classes, cycling and more. All exercise physiology services are available at no cost to you.
If you have a physical injury as a result of your military service, you can register to become a Mate to access our services. Our staff are here to help you find services that are right for you.
There are a variety of reasons to see an exercise physiologist, including if you have an injury, are in chronic pain and unsure how to manage it, you are pre- or post-surgery or have a chronic disease. If you are unsure about how you are moving or feel like improvements can be made, an exercise physiologist can assist with movement assessments and give you feedback and strategies moving forward.
At Mates4Mates, our exercise physiologists will take time to learn about your health history and any injuries you've previously had or are currently dealing with. They will develop a plan to help you recover or learn to adapt to an injury. This will involve making lifestyle modifications such as changes to physical, mental and dietary behaviours.
Get in touch
To find out more about joining Mates4Mates, accessing services or supporting our cause, fill out our form or call 1300 4 MATES (62 837) during business hours.